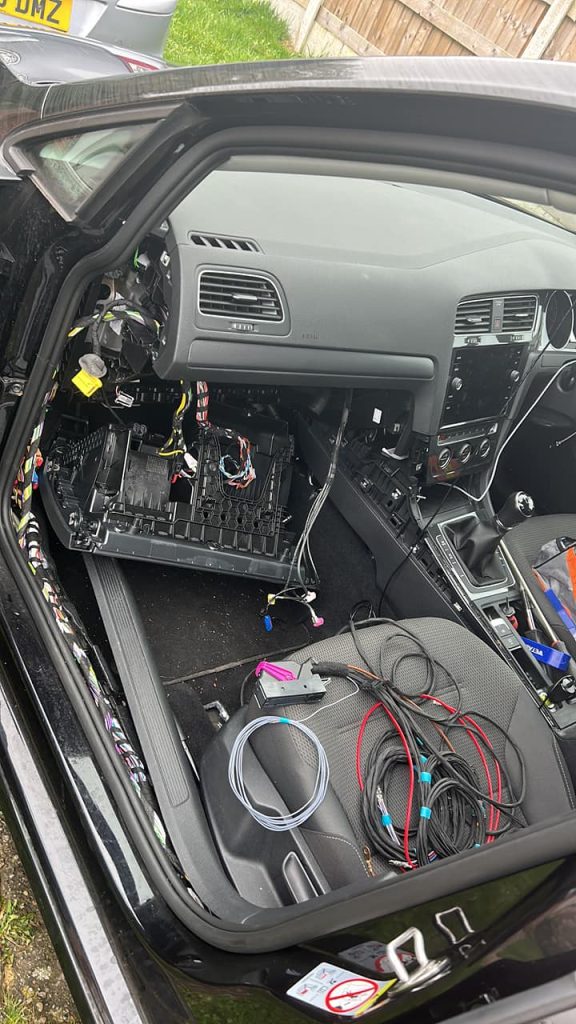 This is my own personal daily runner car. I purchased it when it came off lease from it's previous owner directly from the VW dealership at 2-3 years old – I'd always wanted a Mk7/7.5 Golf, and of course all new models are the Mk8 which I have no personal interest in, although this is a separate topic in itself.
It didn't take long for me to get disappointed with the stock audio system. I'd tried the Focal integration door speakers, my old Focal subwoofer from the Polo (as this setup sounded great in there), the official VW retrofit solution – the Helix subwoofer (what a disaster that was), and I'd even purchased one of those £700 Nav-TV Zen-V MOST optical decoders to try and yield a perfect "untouched" signal from the MIB2 infotainment system. I fed this into a Helix external amplifier, again, was not impressed and no amount of tuning could get it right.
One day I bit the bullet and thought right let's go for the full Dynaudio system that was an optional upgrade since new. The costs quickly skyrocketed, as to do it properly you need all of the following:
Rivet removal tool – drill bit
Rivet set and decent hand rivet gun
Terminal removal tools to re-pin door harnesses and add pins to the MIB quadlock
Car trim removal tools to remove A pillars, car trim panels and the door cards
Sound deadening material
4 Dynaudio door bass drivers
2 Dynaudio rear door tweeter drivers
2 Dynaudio front A pillars with tweeter in grey headliner (almost impossible to get hold of, I had to import them and the first pair I received was 2 left pieces – you can imagine the disappointment after waiting over a month)
Module 47 external amplifier/digital sound package/DSP that sits under the passenger seat
Mounting frame and cover for external amplifier
Full wiring loom for the Dynaudio system
Boot spare wheel Dynaudio subwoofer
It took me a few weeks to complete the project, largely because there was no instruction manual for this and no retrofitter I could find that would take on the project either at all or at a reasonable price.
However, the finished product, is notably better than stock. It goes a lot louder as you'd expect. The midrange is a lot better, albeit not perfect. It cost me a small fortune to retrofit it due to difficulty sourcing parts, but I feel comforted by I might have the only 2020 registered Match Edition Golf 7 in the UK with Dynaudio, as well as because I was able to sell the system I originally put in that I brought over from my old car for a significant amount of money.
You can hear how it sounds below: